All your services – here in the Webshop.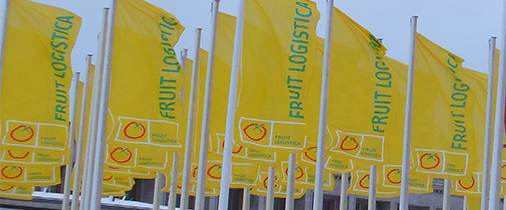 ---
The Fruit Logistica Online shop – Berlin ExpoCenter Online (BECO) – is your platform for ordering all products and services required for the successful organization of your trade show presentation, including electrical or water installations, several stand services and much more.


---
NEW:
All exhibitors should have already received
free exhibitor pass codes by e-mail
. Please check your E-Mails and SPAM filter accordingly. If you have any questions, please send an E-Mail to
fruitlogistica@messe-berlin.de

Codes for additional exhibitor passes
can be ordered fee-based online at the BECO-Webshop or available onsite at the Exhibitor Service Center from 1 February (Großer Stern between hall 10.2 / 11.2, 3rd floor).


Construction and dismantling passes are not available online anymore.
You can get them on-site at the following
entrances/log points (PDF, 541.1 kB)
:
Entrances Hall 7, 16, 21 and 26
02. - 06.02.2018 6:00 a.m. - 7:00 p.m.
09.02.2018 3:00 p.m. - 9:00 p.m.
10. - 12.02.2018 6:00 a.m. – 7:00 p.m.
Exhibitor Service, Grosser Stern, Level 3
02. - 09.02.2018 8:00 a.m. - 6:00 p.m.
09.02.2018 8:00 a.m. - 4:00 p.m.
---

To make sure your preparations run smoothly, we recommend:
timely submission of stand construction details for official approval / at least 6 weeks before the beginning of the construction period: 30 Nov 2017
timely submission of your orders in adherence with indicated deadlines
adherence to the Traffic Guide regarding entering the fairgrounds during the construction period, as well as during the show
Please note: Ordering in the shop is only possible
if you have already received your hall and stand number. You can find it on the order confirmation for your stand space and on your down payment invoice.
In case of questions, please contact the support team. 


---